Best Dog-Friendly Condos in the Pearl District
Posted by Brian Enright on Thursday, April 21, 2022 at 1:15 PM
By Brian Enright / April 21, 2022
Comment
Sometimes when I walk around the Pearl I think there may be as many dogs here as there are full-time residents. I know that's not the case, but there's no denying that this town loves dogs! And the Pearl District is a great place for dog owners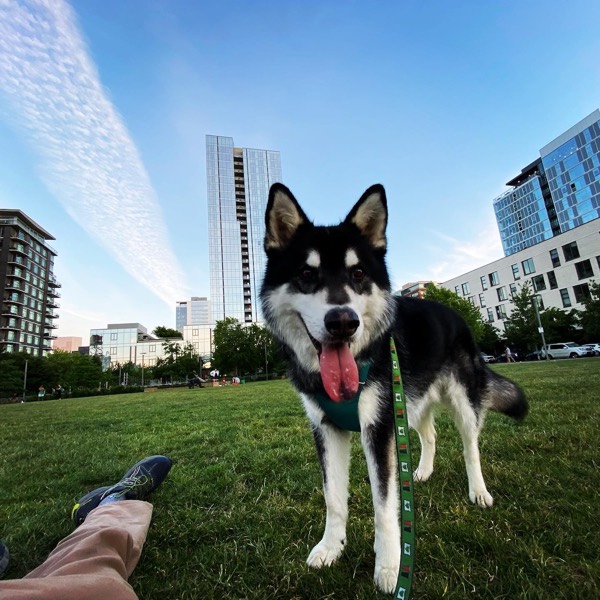 to live for a variety of reasons. If you're thinking about moving to the Pearl with your dog then read on!
With this many dogs around if there were a significant number of owners who did not pick up it would quickly get out of control. But overall the dog owners in Portland are the most conscientious of any city I've lived in. Rarely do I see a dog owner not pick up waste. In fact, I regularly see dog owners pick up other dogs' waste that inconsiderate people have left behind. That's just so Portland - I love it and am inspired to do the same. Maybe that's why neighbors and business owners here are so tolerant of sharing the streets with us dog owners. We can't even walk past Snow Bunny or Lovejoy Bakers without Brophy insisting we go inside because the workers fawn over him and give him treats!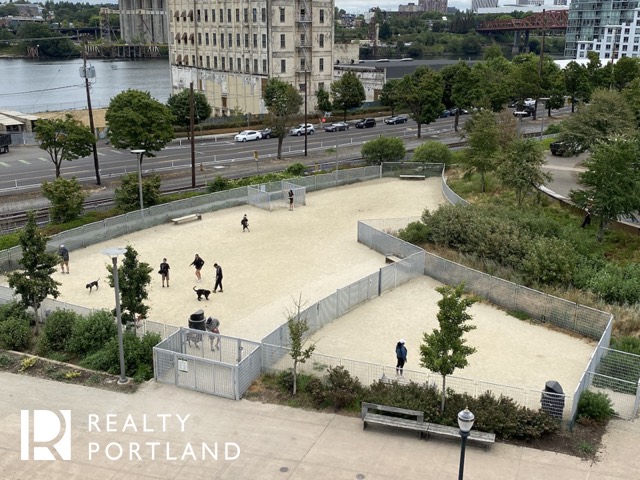 The Pearl technically only has one official off-leash dog park, and it's located at The Fields Park on the north end by the river. It's fenced, and it has a small dog and large dog area as well as running water. The surface is not the best... it's a kind of crushed or decomposed granite that isn't nearly as nice as the big grassy lawn right outside the fence. Maybe that's why so many dog owners run their dogs in the grass, and why the parks department keeps posting signs about the leash law. Nonetheless, it is a decent sized dog park where your dog can get some good runs in and there are almost always dogs inside ready to play. And it is literally in the shadow of four of the Pearl's most popular buildings: Encore, Vista, Pinnacle and The Cosmopolitan making it very convenient for those residents. Vista even has a dog grooming room complete with dog wash station for residents! For that reason, and the fact that most of the units have huge terraces and the off-leash park is literally across the street, I have to say Vista would be my top pick for the best high-rise in Portland for dog owners. But you really can't go wrong with any of those four buildings.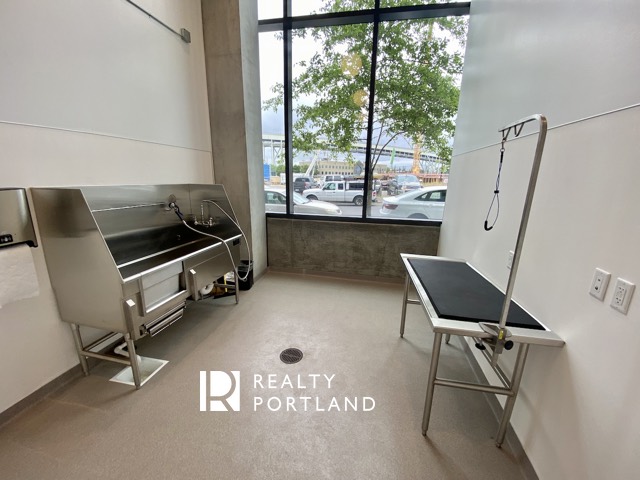 The Dog Grooming Room at Vista
Just south of The Fields is Tanner Springs Park. This park is a big tease because unfortunately dogs are not allowed. It's almost like the squirrels know this and they taunt the dogs who are unable to come in! I get it though... Tanner Springs is a special place with sensitive plantings, water features and ducklings. Bringing a dog in there would not be good for it and we want it to flourish for everyone to enjoy.
Keep walking south from Tanner and you'll arrive at Jamison Square. This is a popular place to bring dogs, as there is a grassy lawn and usually some squirrels milling about. My dog loves climbing on the rocks, and in the Summer the water comes on which makes it even more fun for him. Even though it's not off-leash and there can be aggressive homeless people at times we almost always enjoy a trip here.
Besides the four buildings I mentioned earlier, Streetcar Lofts, Park Place, The Metropolitan, Tanner Place and Bridgeport are all close to Jamison Square and would be very convenient places for dog owners to live. And thankfully they span the full price range spectrum from the $200k's to $Millions.
Waterfront Pearl is a good development for dog owners, but it's across the tracks from Fields Park so you may have to wait on a train to get there or back home. (WHEN will we get a pedestrian bridge over those tracks??) But the good news is you don't have to cross the tracks to get some green space as there is a small lawn and some other good natural spots along Naito for walking your dog.
The South side of the Pearl is home to some of our favorite condo buildings like The Casey and The Henry, and they're dog friendly but they're not close to any off-leash areas. The closest green space is North Park Blocks which is a few blocks east, but it can get pretty sketchy around there at night. Heck even in the middle of the day it can be sketchy! Otherwise you'll have to hike about 7 blocks north to get to Jamison. I've gone round and round on this topic, because I love how close those buildings are to restaurants, shops and nightlife. But the fact is I walk my dog about 4 times a day, and I work from home and only go out to dinner two or three times a week. So it just doesn't make sense for me to move down there.
I hope this guide has helped. The fact is every high-rise condo building in the Pearl allows dogs... there may be size or breed restrictions. It's just a matter of how close to a park you want to be for those late night walks. Do you agree? Disagree? Or do you have other tips for Pearl dog owners? If so please join the conversation and leave a comment! Thanks for reading.