Encore Condos
Encore is a 16-story modern condo tower located directly on Fields Park in the Pearl District. And when we say directly on the park, we mean it... you walk out the front door of Encore right into the park without even having to cross a street. It's like having Fields Park as your front lawn! In addition to the condos there are a few brownstone-style units with huge patios facing the park. When it comes to location, Encore is hard to beat.
Read more about Encore | Take a Photo Tour of Encore | View Sold Listings at Encore
Available Encore Condos For Sale
Today's Encore Condos Report
October 2, 2023
Encore Condos Statistics
Year built: 2007
Stories: 16
Number of Units: 177
Number of Elevators: 3
Where is Encore?
Encore is located at 949 NW Overton Street in the North Pearl District. Encore is at the intersection of 9th & Overton and is adjacent to Fields Park. Nearby buildings include The Cosmopolitan and Pinnacle which are right next door.
Does Encore Allow Pets?
Absolutely! And being right on Fields Park makes this a terrific building for dog owners, and you'll meet lots of your neighbors on their way too and from the park. Encore has a side entrance where they encourage dog owners to enter and exit the building and they even put paper towels there to easy clean off your dog's muddy paws.
What Amenities are there at Encore Condos?
Encore is not a full-service luxury high-rise which helps keep the HOA dues lower than other buildings in the area. There is a community room and an exercise room on the third floor. There is also a nice lobby but it's unattended.
What Types of Condos are at Encore?
Encore has one and two-bedroom flats on levels 4-16. The top floor features large one-level penthouses with huge patios and gas fireplaces. There are also a handful of two-story street-level townhomes that are about 2000 square feet each and have private gated courtyards. Six of those townhomes face Fields Park which puts them in high demand.
What does the monthly HOA fee at Encore include?
The HOA fee is a little less than other buildings because Encore doesn't have a lobby attendant or courtyard to maintain. The monthly HOA fee includes building insurance, water, sewer, trash, building maintenance and a full-time on site manager, handyman and cleaning person.
What we like about Encore
There's a lot to like about this building. The condos are finished out nicely with dishwashers and refrigerators that look built in. There's great tile work in the bath and recessed lighting throughout. Each unit also has its own HVAC system but hot water comes from a central boiler. This is also a three elevator building which is very desirable, especially when one elevator is out of service or being used for a move. Packages must be delivered to the door of your unit, which is much preferred over buildings where they can just dump them in a mail room. The park out front has to be our favorite thing about Encore though.
Photo Tour of Encore Condos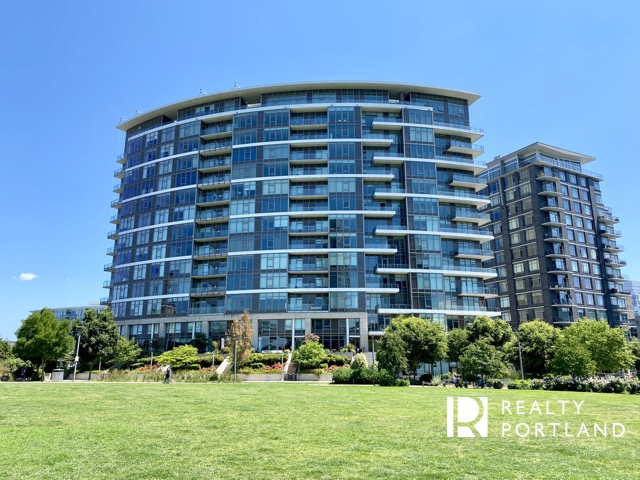 ---
Contact us about Encore Condos